Cesc Fabregas reclaimed his starting role at Stamford Bridge after initially being relegated to the bench when Antonio Conte took over. The Spain international, 30, had to consistently impress to gain the trust of Conte. Fabregas explains that he had to prove Conte wrong in order to save his career.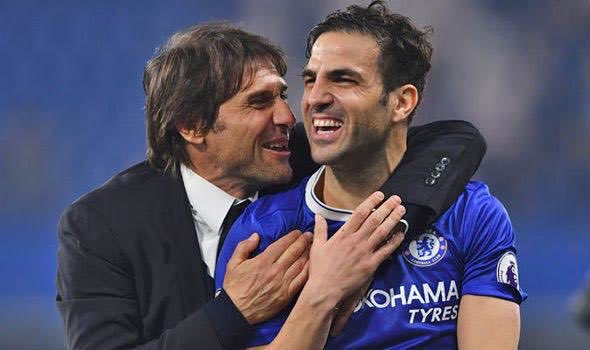 With the talented playmaker on the bench, it might have been hard to get another top club to sign him and then adjust quickly ahead of the World Cup. Fabregas has had an illustrious career, starting out early and becoming a leader at Arsenal before the switch to Barcelona and then moving to Chelsea. Exiting the Blues on that not might portend that his end is near.

"I would be lying if I said I wasn't worried. Maybe worried is not exactly the right word, but you can imagine. I wasn't playing, not really part of the manager's initial plans and at that point you can do two things – just give up and accept you're not part of the team or the cub in the future.
"Or, what I did, put your head down, be humble, work hard, train hard every day, show him that he's wrong and that you can trust me and play in this team," Fabregas said.
The player said he had to give his all anytime he got the opportunity. With time their relationship turned sweet, especially with the title victory. This season the whole team is facing the pressure to retain the title but Fabregas remains a key part of the manager's plans.
His current contract with the club is one year out but talks are yet to be held. This is largely because the season has not been running smooth so far, with so many issues. However, the playmaker would likely be offered a year deal in 2018.